Data Platforms as Enablers to Successfully Transform Urban Mobility
Philipp Auer,
09. November 2020

In September 2020, leading representatives of Germany's mobility industry convened for an automobile summit at the Office of the Federal Chancellor in order to explore participant readiness for a national platform (Handelsblatt Sept. 7, 2020). For the next summit in November, concrete approaches about implementing a mobility data room are to constitute the focus of discussions. Yet to date there have been reservations within the automobile industry about taking part in a mobility data room — in particular, a number of representatives do not appear to be convinced that joining this data platform will reap benefits commensurate with the true value of their data (Handelsblatt Oct. 28, 2020). At the same time, the industry faces immense changes, for cities wish to override the dominance of automobiles in city traffic and facilitate other modes of transportation. But transforming mobility is an extensive and arduous endeavor (see Illustration 1).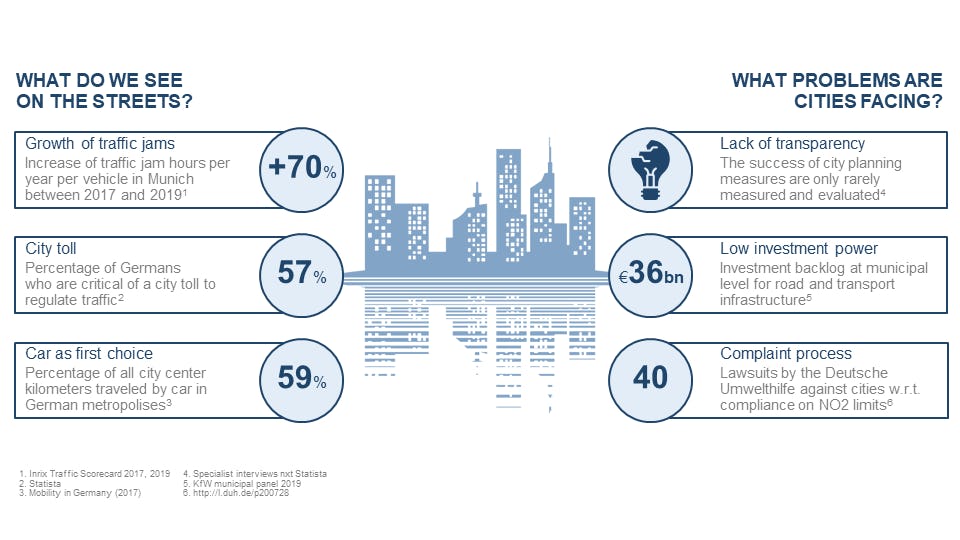 Illustration 1 | Source: own visualization, nxt statista
What is the driving force behind the transformation in mobility?
The concept of modernity in mobility has clearly progressed since the automobile was invented. Nowadays, we like to refer to it as Mobility 4.0. This is characterized by four central attributes.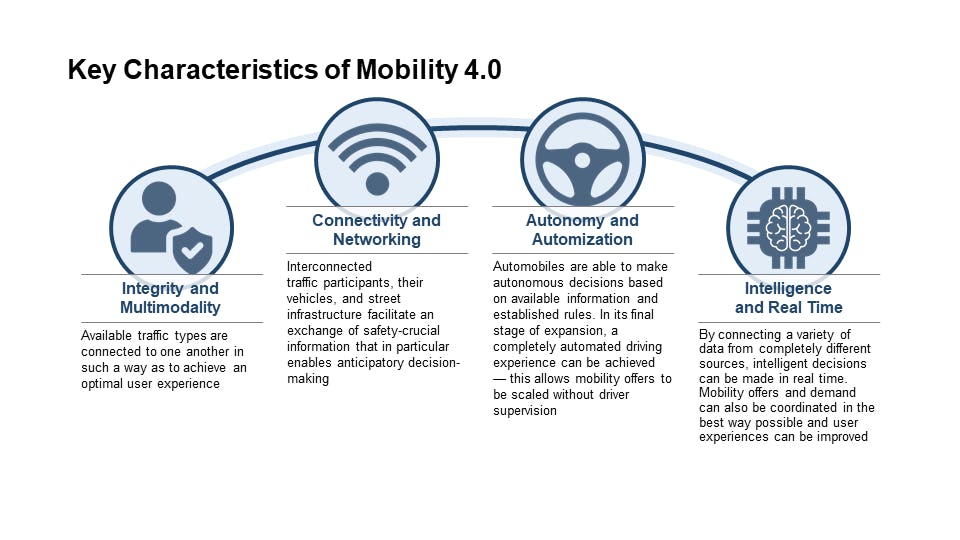 Illustration 2 | Source: own visualization, nxt statista
That the modern-day mobility turnaround in an urban context fulfills all the criteria for the aforementioned attributes can be traced to two factors: the ongoing process of digitalization and climate change.
Digitalization has led to an enormous change in mobility behavior in urban areas. Connected vehicles, the general use of smartphones, and the immense computing power of the cloud have created new categories of options. In place of ownership, the temporary use of transportation types has entered the scene — the collaborative use of mobility offers has shifted the focus towards the model of the sharing economy.
At the same time, global climate conditions have become increasingly critical. Traffic still constitutes a major source of greenhouse gases. For this reason, urban areas are actively attempting to push back on the dominant position of the automobile. Mobility 4.0 brings with it all the technical and contextual prerequisites to implement the transformation to sustainable mobility with success. Many cities are already testing and promoting new traffic concepts, e.g., in order to use modes of transportation much more efficiently through the sharing economy. Most cities prefer this approach over the last resort: driving bans in the city center or a city toll.
What significance does data have in all of this?
The transformation in mobility behavior requires an immense amount of data. In effect, data is the gasoline for Mobility 4.0, and with the inclusion of new data sources, this transformation gains momentum.  In the process, data is not only retrieved to improve efficiency, but is increasingly becoming the starting point for completely new business models. A unique role is played here by mobility data platforms that encourage data exchange and thus allow for the emergence of innovative business models. Based on the notable significance of the mobility sector, the government itself is seeking to have a strong role by precisely allowing such mobility data platforms to take shape (see, for example, the Federal Highway Research Institute's MDM Mobilitäts Daten Marktplatz or, currently under construction, Datenraum Mobility). The objective is to promote innovative ideas through the exchange of data in order to safeguard overarching public interests.
Relevant mobility data can be found for every traffic type — often, the only remaining question is whether the access to the given data point is made possible through public sources or if commercial data is involved. In the latter instance, this data is usually not provided without (monetary) compensation and/or is not made accessible to third parties for strategic reasons.
In Illustration 3, we show that accessible mobility data is already quite diverse and can be identified along the various automobile, short-range public transportation, bicycle, e-scooter, and pedestrian traffic models. Added to this is infrastructure data that for example gains importance for smart traffic routing.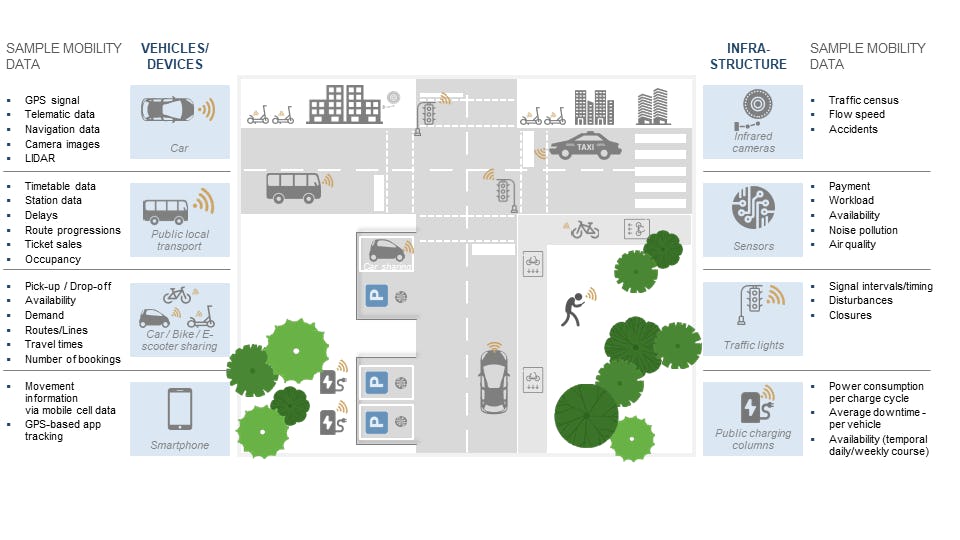 Illustration 3 | Source: own visualization, nxt statista
Which role do data platforms have for mobility transformation?
In particular, vehicle data from automobile manufacturers is that kind of data type that has lately been generating significant interest. Such data is not only interesting for original equipment manufacturers (OEMs) but also serves as the basis for insurance companies in order to offer discounted telematic rates. In addition to those business opportunities it becomes apparent how data itself enables new business models. With Wunder City, for example, Wunder Mobility has a product in its portfolio that gives cities greater transparency regarding available private mobility offers. Visual processing within a dashboard offers the possibility of executing the necessary analyses with the correct data and integrating insights to into urban planning processes. 
Looking ahead, it can be assumed that urban traffic challenges cannot be solved with just one idea. Rather, a multitude of innovative ideas will be needed to orient urban mobility more definitively towards sustainability. With that, cities occupy a special role, as they are able to exert a significant influence with their urban planning processes — yet concerning this, they need to know what is happening in their cities in concrete terms and how mobility behavior is changing.  Ultimately, it is all about increased transparency by using data. An important index for which regular updates currently do not exist is the modal split — this information is only updated by large cities every 5-6 years on account of the significant manual effort involved. If cities were in the position to consolidate the sources and data shown in illustration 3 in a data-protected manner, the modal split could be monitored in shorter intervals. This would help to track if implemented traffic measures have the desired effect on user behavior, reflected in the modal split.
Moreover, target groups from the corporate sector would benefit from a mobility platform — through data, they could develop new, creative products and shape the structures of demand. Up until now, a truly comprehensive, central point of exchange for mobility has not been successfully established. Approaches thus far have largely lacked the typical success factors of data platforms: a clear focus on clients and benefits, high usability, additional data enrichment through secondary data and possibilities for analysis, as well as an attractive price structure for all involved parties. It would be advantageous to focus on the reciprocity of a data platform: selling and purchasing data through the same marketplace participant. This way data that was previously withheld for strategic reasons could be made available. The anticipated cash flow could be oriented towards fixed prices per retrieval, the Spotify model of royalty pools or even countersales.
However, as long as only one marketplace comes into existence that is driven by a public sector, which delineates a small segment of the potential world of data mobility or wishes to convince participants to get involved by offering insufficient compensation, subsequent attempts will fail in the long run.
Should you generate mobility data within your company or rely upon it for operative processes, please get in touch with us. With our experienced consultants and our data science team, we are not only in the position to determine the strategic value of your data, but we can also assess with which data you could optimize your own processes.