Data-Driven Sales Management or "Who Scores the Goal?"
Stefan Bülow,
15. Oktober 2020

In B2C online sales, one thing is clear: data and the ever-increasing use of mass data (Big Data) form the basis for modern and successful sales management. Yet when using additional sales channels and offline marketing, empirical values and the gut feeling of long-standing experts often determine the budgeting for the marketing mix and managing sales activities.  There is a better way of doing this!  In addition, omnichannel sales and a broad marketing mix can be optimized in a data-based manner.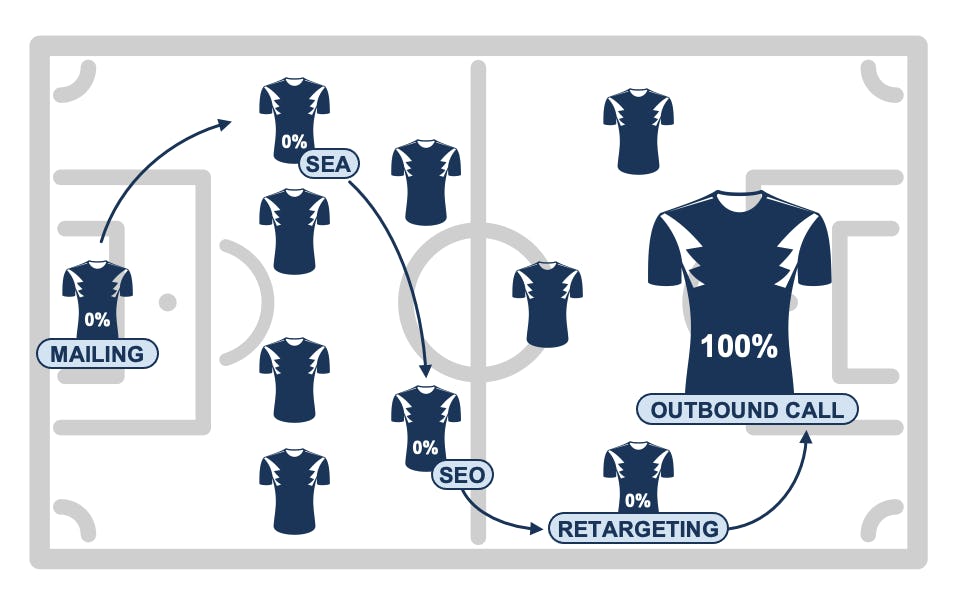 Attribution as a modeling basis
The magic word for data-driven optimization is "attribution." By the late fifties, the attribution theory had already been developed by Fritz Heider [1]. Attribution describes the ascription of psychological effects or incentives as a causal motive for actions. In the field of sales and marketing management, this means assigning the influence of touchpoints (customer contacts) to commercially relevant actions, i.e., a purchase or a conversion. Using the language of soccer, we aim to determine the influence of the different players on scoring a goal: is it the striker who pushes the ball into the goal, the player with the direct pass to the striker, or the goalie who uses a gap to take his shot? 
With regard to sales and marketing, the question is: is it the postal mailing, the information search on the website, the gift certificate after registering for the newsletter, or the call center's phone call that generates the sale? Here, data-driven optimization requires a shift in approaches to sales and customers, away from broad, rigid, and long-term supervision with lots of gut instinct to a dynamic, detailed, and personalized approach.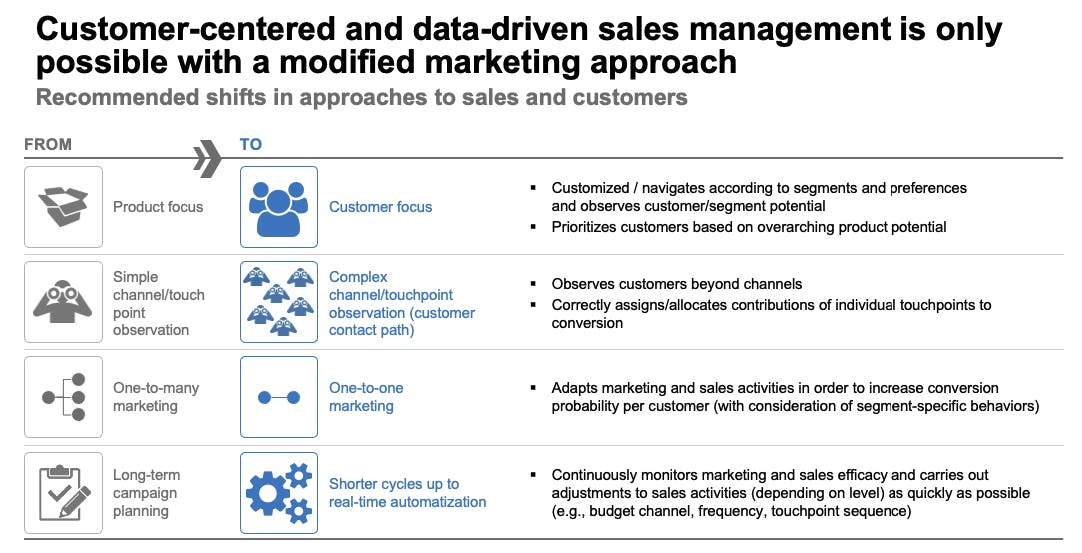 A shift to data-driven marketing and sales management in a single step is not possible or sensible. Rather, it is necessary to expand the integrated data sources in stages and learn through analysis and testing. Through quantifiable successes, the organization should increasingly gain the confidence to enable the use of analysis-based algorithms for recommended actions and controls.
Customer journey mapping as a starting point
Data-driven optimization should start with customer journey mapping. Different customer touchpoints are comprehensively captured and enriched with relevant information. Contact points and different conversion paths are connected to customer journeys.
 Since these paths are very different and overlap considerably, accurate time and sequence captures are important. Moreover, qualitative cross-channel tracking is not an easy task. In addition to establishing technical details for data collection and a sensible database structure, data protection requirements also have to be met:
Documentation and information requirements with respect to customers
Pseudonymous collection of online user data
Authorized use of offline data for other purposes
Use of pseudonymous data to link online and offline data
Securing pseudonymity when enriched with other data
Separate storage and limited access when using data from different affiliates
Once the data structures are captured, linked, and enriched, it is then possible to construct statistical attribution models.It is best to start with simple last-touch models (that is to say: "the striker shoots the goal") and increase the modeling's complexity with each improved version. As the understanding of modeling progresses, it becomes possible to advance to dynamic modeling, which is more complex and requires a higher level of data science skills.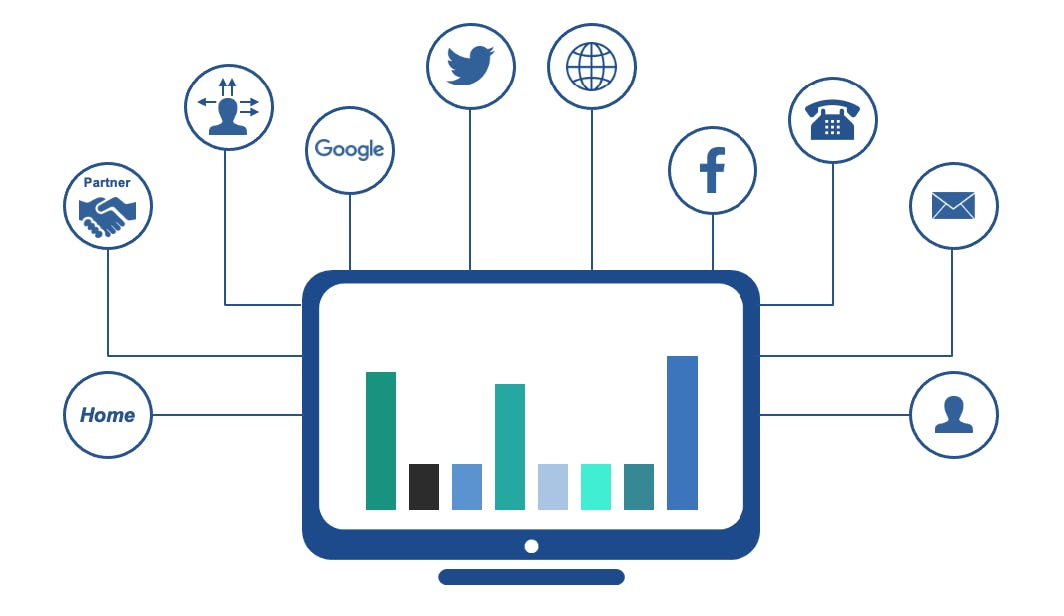 Using attribution in marketing and sales management
Through continuously improved modeling, the value of individual touchpoints is not only measured with increasing precision, but additional analyses and statements for marketing and sales management also become feasible, such as:
Efficient budget allocation to channels and campaigns to increase sales and/or minimize costs
Individual approach and optimized touchpoint route for each target group and/or product
Optimized frequency of customer approaches according to product and user
Optimized sequence of contact route for each target group/customer
Taking up the soccer analogy once more, attribution models not only help to decide which players (touchpoints/channels) are worth investing in, but they also assist in planning concrete moves (touchpoint routes) and dynamic, ad hoc decisions about the next ball transfer (next best action). The results of attribution models often lead to astonishing improvements, but their introduction into the organization should only be undertaken cautiously. Generally, these complex statistical models can only be understood by data scientists and, in order to achieve the best results, their learning processes also require time or large amounts of data. In order to establish acceptance for an algorithm-driven, dynamic system, we recommend taking the following six insights into account when introducing attribution models: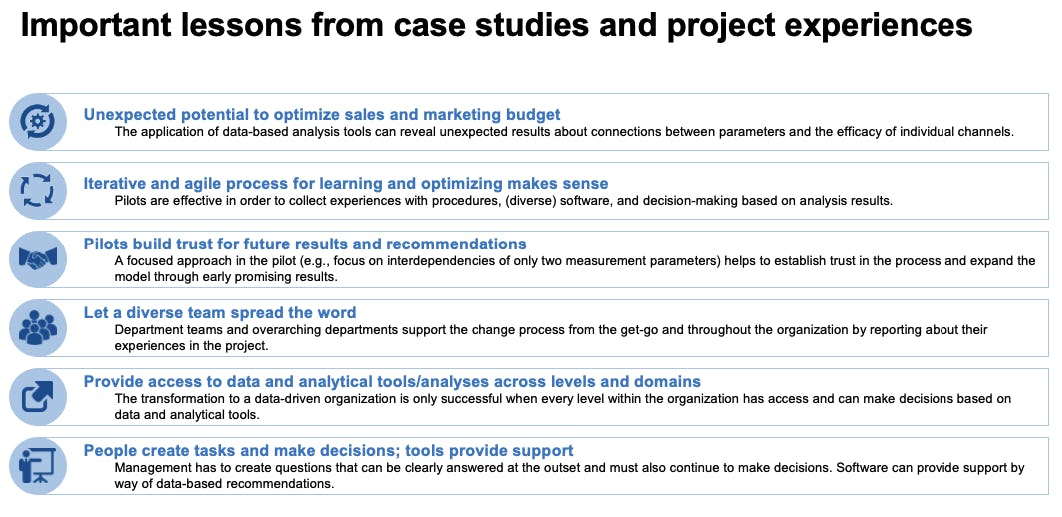 Quantifiable successes through attribution
Successes with the introduction of attribution models can be achieved in sales and marketing across various industries. Our concrete project experiences in the areas of (online and direct) insurance and (B2C) energy sales demonstrated improvements of more than 10% in marketing efficiency in the first 12 months following implementation. If you would like to optimize your marketing and sales management with data-based solutions, please contact us!
[1] The psychology of interpersonal relations, Fritz Heider, 1958